What is the future of location-based marketing?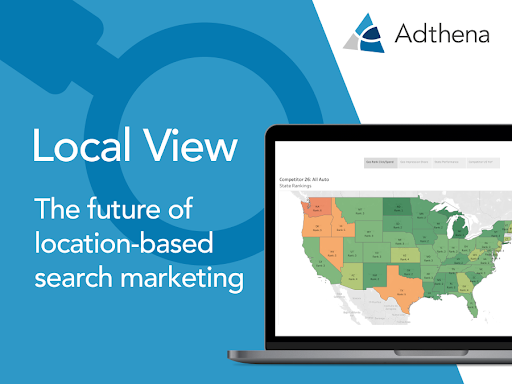 The Covid-19 pandemic had a major impact on how people around the world search for products and services and caused a major shift in consumer behavior. Marketing by location is key to efficiently reaching these consumers, but with Google's limited data sets due in part by privacy concerns it became clear that advertisers needed local insight if they wanted their PPC campaigns running effectively and efficiently.
Adthena's groundbreaking Local View solution uses advanced AI technology to provide the location-based analytical power marketers need to compete in the local search landscape. In any city, state, Nielsen DMA or custom region, it enables marketers to understand consumers and their search habits, the competitive landscape, and location-specific threats and opportunities.
"Your consumers are searching for what they want, where they are right now, and that activity is being redefined during the coronavirus pandemic," said Ashley Fletcher, VP of Marketing, Adthena. "Your location-specific ads need to adapt and be there, and they need to be informed by these changes. With Local View, we can show you what your audiences are searching for by geography, which ad copy performs best and who you are really competing with, bringing much-needed transparency to location-based search."
Local View enables your team to understand market shifts and competitor moves by location, so you can stay ahead of competitors, maximize ROI and acquire more customers at a local level.
How does it work?
Local View is powered by Adthena's industry-leading "Whole Market View". The AI automatically scans a brand's website and their competitors' keywords to create a custom map of only the most relevant terms for the brand. Once a unique Whole Market View has been created, it actively gathers data on new market movements and relevant keywords, every single day. With Local View, a brand can now get a personalized view of their search landscape in every location they care about.
Learn more about Adthena's Local View Solution: https://www.youtube.com/watch?v=WLtGr8AYzp4
Unrivaled in the industry, after just one year in market, Local View has 43 major brands in diverse verticals monitoring 800+ locations, and is routinely achieving results for customers such as +15% market share and +20% Click Through Rate. It's also adding value for brands as a tool to determine price point and messaging; discover how Out of Home advertising affects impression share; monitor brand market share vs affiliates; and save time on manual analysis with automated reporting – all across multiple locations.
Discover how Adthena customer Origin Energy used Local View to boost Market Share by 15% across differing states: https://www.youtube.com/watch?v=iQFbG78z1wU
With consumers continuing to shop locally following the pandemic, Local View looks set to capitalize on its first-to-market advantage to become an integral part of any search marketer's toolkit for years to come.
Award-nominated technology
It is great news for our customers that Adthena's Local View has been selected as a finalist in the Global Business Tech Awards 2022 in three categories. We're proud that our ground-breaking Local View solution has earned us recognition and we look forward to going up against other amazing companies at this year's awards show.
Global Business Tech Awards 2022 – Application of the Year
Global Business Tech Awards 2022 – Best use of Data
Global Business Tech Awards 2022 – Best Use of Innovation
About Adthena
Adthena is an award-winning search intelligence platform with the unique combination of patented, AI-driven technology, and a supportive team of paid search experts, to help brands, marketers, and agencies dominate their competitive landscapes.
We provide customers around the world with a clear view of the competitive landscape, helping them optimize their paid search spend to increase ROI, inform cross-channel strategies, and save time.
Our Whole Market View technology creates a full market map of a client's entire search landscape; Smart Monitor automatically detects threats and opportunities every day; and our exclusive Local View solution provides the location-based strategic insights that brands, marketers, and agencies need to optimize their spend at local level.
Learn more about Adthena's Local View at: https://www.adthena.com/technology/local-view/
Follow Adthena on LinkedIn