At Cornerstone, we power the future-ready workforce with adaptive HR solutions designed to unite technology, data and content and inspire a work environment of growth, agility and success for all. We help organisations modernise their learning and development experiences, deliver the most relevant content from anywhere, accelerate talent and career mobility and establish skills as the universal language of growth and success across their business.
For the Global Business Technology Awards , we put forward one of our core products – Skills Graph. A holistic, AI-powered solution, the Skills Graph can map 53,000 unique skills to any of its 250 million profiles across languages and geographies.
We're thrilled to see this product shortlisted in the Global Business Tech awards, giving it recognition as a solution that addresses our customers' pain points through our innovation.
Skills Graph – a closer look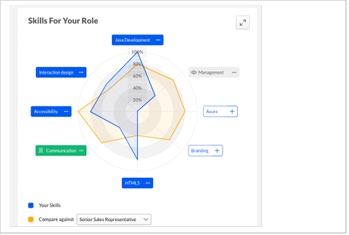 This solution empowers workers with customised and continuous growth experiences, and provides businesses with faster, smarter, and deeper insights into the skills needed to grow careers and define employees' paths to success.
Why did we launch this? Because it is needed now more than ever before. As HR is caught in the crosshairs of constant and rapid change, businesses are experiencing a growing demand for new skills. Companies now require a strategic solution to help them gain a clear understanding of each employee's strengths and weaknesses, to help them develop new skills, strengthen existing skills, and excel in their respective roles. Our 2022 report, Thriving in the Global Skills Shortage: Your Path Through the Wilderness, found major disparities between how employers and employees viewed skills development within their organisations. Worryingly, just 55% of employees saying that their organisation's skills development was a priority. Additionally, nearly half of surveyed employers placed skills and talent shortages within their top three most urgent concerns in the next three years. It's clear there has never been a more important time to focus on skills.
Our Skills Graph has the ability to scan blogs, metadata, descriptions, CVs, performance reviews, videos, and more to weight and tag skills that are present – and may have words which don't contribute to teach a skill. Our expansive dataset is what powers this functionality – the Skills Graph relies on years of data from public and private sources including LinkedIn skills data (prior to the deprecation of the API in 2014), Monster, Indeed, and others to represent a base of 2.5 terrabytes of skills and their synonyms. We're also able to integrate AI into the work that a company may have already done by using synonym mapping.
With the Skills Graph efficiently condensing what would otherwise be months of difficult manual labour into a matter of hours, businesses can invest time, money, and energy into reaching other objectives, knowing that their employees are supported by Cornerstone.
Finalists with Global Business Technology awards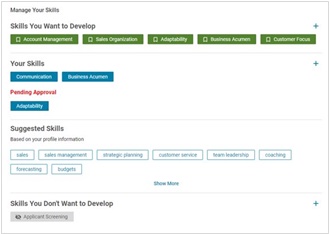 We're pleased to be shortlisted for this award at the Global Business Tech Awards, among names of other companies who are making a difference for businesses with their technology offering. Being named as a finalist showcases the value that Cornerstone brings to enterprises, particularly at a time when talent management is becoming increasingly crucial to a business' overall success.
Receiving recognition from judges from around the world, who are bringing their tech industry expertise to the table, is an honour. We look forward to the final results in May.
To find out more about Cornerstone's Skills Graph, see here.
Twitter: @CornerstoneInc
LinkedIn: Cornerstone OnDemand